Rick DiPietro's career stat line looks like he played in the 80's (2.86gaa, 90.3sv%). What's worse is the Islanders continue to pay Tricky Ricky $4.5mil per season despite the fact that he's only played.. *drumroll*.. are you ready for this? It's pathetic.. even I didn't think this situation was this bad.. 47 games in the last 4 years!!!!!111!1!!!!!11! WHAT!? Are you kidding me Rick? *crunching numbers* That means Charles Wang has paid this dummy $382,978 and 72 cents for every game he's played in the last 4 seasons. I won't even get in to how terrible a goalie he is.. it's not worth the typing.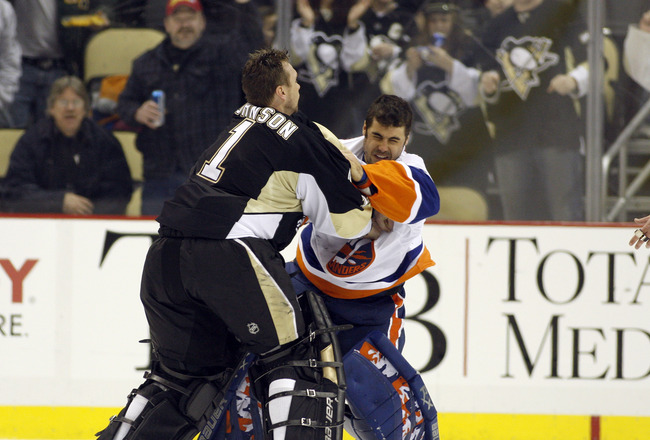 DEFINING MOMENT OF DIPIETRO'S CAREER
Signing Ricky was among the worst moves in franchise history (lets not get into that discussion..); among the best moves you ask? Claiming a disgruntled Evgeni Nabokov from the Wings. After basically being fired from the KHL (yes they can do that.. imagine if the NHL was like that!) Nabby came over and showed he can still stop a puck. A goals against of 2.55 and a 91.4sv% are practically miraculous behind a defense that boasts Andrew MacDonald as it's go-to-guy. That's not a knock on Andy (whom I believe is very underrated), but he shoudn't be relied upon so heavily. Back to the matter at hand.. Nabby is as durable as they come at 36-years-old and should be good for at least 40 solid starts. Unless his age catches up with him.. which is a big unless.
If the Islanders can get 50 or so starts out of Rick and Nabby they shouldn't have any trouble continuing to ease Anders Nilsson and/or Kevin Poulin into some 'chell action. Another of those hulking Scandinavian tenders, at 6'5 Nilsson presents an intimidating frame. He didn't see as much action last season as I would have liked though (just 25 games in Bridgeport and 4 on Long Island). It's very likely he'll need another season of grooming, but who knows he's a high quality prospect who might be able to make the jump sooner than expected.
The reason for Nilsson's lack of starts was fellow 22-year-old prospect Kevin Poulin of Montreal, Quebec. Poulin got the jump on Nilsson after some good numbers in his first pro-season (last year) including a 4-2-1 record for the Isles after an emergency call-up. He had the yeomans share of the starts in Bridgeport with 49, and he didn't do such a bad job (26-18-4, 2.79gaa, 91.2sv%). If I had to guess however, I'd say Poulin might be displaced by Nilsson come training camp.
1 massively terrible pin-cushion of a mistake, 1 aging superstar goalie, along with 2 solid prospects means the Islanders are in murky water. I feel I've put a relatively positive spin on this situation, but it isn't ideal. I'd shell out 4 straight rights to the orbital bone to Garth Snow for this assortment of tendys. That rating is simply because of the total uncertainty surrounding what DiPietro ann Nabokov can produce. If it comes down to starting Nilsson or Poulin in 30 or 40 games it could be trouble (4/10).